Amphibious Legal Geographies
The workings of the law can feel as distant as the ocean for many of us.  But how law and governance shape the health of the ocean deserves to be better understood in this UN Decade for Ocean Sciences.

Witnessing the slow suffocation of the ocean from pollution, heat, acidification, and deoxygenation, we must consider what the ocean's illness means for law and, vice versa, how law has been making the ocean sick. The United Nations is currently negotiating a treaty that would apply to areas beyond national jurisdiction.  This film introduces work that questions the very basis of ocean law and its dependence on the land-water binary and colonial legacies,

and makes a case for unmaking rather than fixing existing modes of law.
Music and movement can be a vital source of connection for those with dementia.  Join Mary and Jill as they experience the magic of creative movement therapy. 
One of six films commissioned by Dance Base (Scotland's National Centre for Dance) to celebrate movement in Scotland. 
A collaboration with
Elaine Kordys
(Spin Turn Creative Movement) and sound artist Vicki Fleck.
various international tours 2021-2022)
'
Eastbound
' follows the incredible endurance cyclist Jenny Graham on her journey to break the Guinness round-the-world cycling record and to prove to herself that an ordinary mum from the Highlands of Scotland can do something extraordinary.  A collaboration with
Thomas Hogben
,
Mike Webster
and Jenny Graham.
Bespoked
(The full film and two vignettes can be viewed
here
)
A tender and inspiring glimpse into the ways that those with debilitating, isolating mental health challenges – many of whom have been unable to leave the house for a long time - can be helped to reconnect with the community through cycling in-reach groups.  A film for Velocity and the European Social Fund.
What is it to be a girl?  In the eyes of many teenagers like Karra "being a girl is alot about what you look like".  But are there other ways girls can find their self-worth?  In 'Should', teenage girls give a frank account of the pressures to conform to society's ideals for them and their bodies, and illustrate how - with the help of bikes, positive role models, and each other - they discover their courage and the freedom that comes from adventuring outdoors and discovering what your body can do.  A film for the Adventure Syndicate.
Screened at

Vancouver International Mountain Film Festival 2020, Kendal Mountain Festival 2019, Fort William Mountain Festival 2019
Riding Through the Dark
Available to watch here
Riding Through the Dark aims to shine a light on the heroism of ordinary people and the ordinariness of people who can be perceived as heroic, as they use cycling, especially cycling as part of a group, in the beauty of the Scottish Highlands to get through periods of mental darkness.  The film depicts intimate moments with a range of incredibly inspiring women who show how even very different journeys by bike can shape journeys of the mind.  It features athletes of the Adventure Syndicate  - including Lee Craigie and Emily Chappell - as they do their record-breaking 36-hour North Coast 500 ride, as well as participants of the Velocity Women's Cycle to Health programme.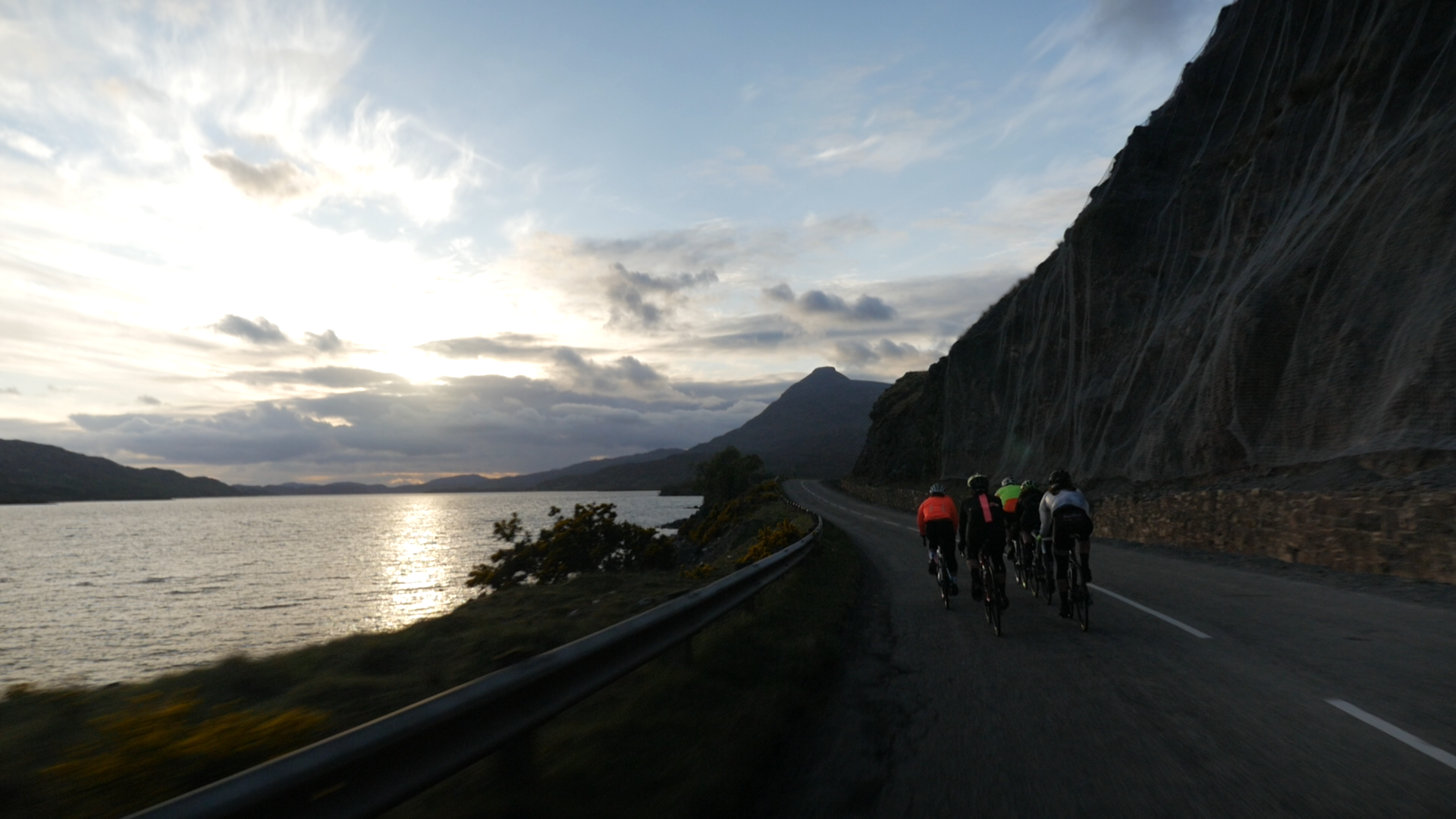 Awards and Selections
Winner of Community Award at the Scottish Mental Health Arts and Film Festival 2018
People's Choice Winner at Fort William Mountain Festival 2018
Selected for Inverness Film Festival 2017
Selected for Aviemore Mountain Film Festival 2017
Selected for XpoNorth 2018
Selected for Edinburgh Bicycle Festival 2018
Selected for Berlin Feminist Film Week 2018
Selected for FICSAM International Festival of Cinema and Mental Health 2018
Review by Georgina Coburn, Art Critic & Writer, Scotland
[Riding Through the Dark is] a film that juxtaposes the experiences of two groups of women, "one held in awe" and "the other in stigma", asking the question of just how different they (and we the audience) really are. The individual stories of a group of elite female cyclists/ athletes and women taking part in a cycling to health and wellbeing programme are woven together and they are extremely honest, courageous and moving. Although the film tackles the issue of mental health and depression head on, it is ultimately hopeful and uplifting.  In revealing the insecurities, loneliness, pain and loss we all share as human beings, Brown and her interviewees shine a light on the possibility of regaining oneself when a safe space can be created, grounded in mutual respect and shared experience. In many ways the film creates that safe space for the audience, doing what cinema does best with the road and the world opening up, gaining understanding and projecting ourselves into the frame as viewers. Riding Through the Dark is also very realistic about the concept of recovery rather than cure. I'm sure that many people seeing the film will strongly identify with it, either in relation to their own experience or that of friends and family. Depression is the absence of hope and in telling their stories these brave women are a shining example of grasping that little bit of something in acute darkness, finding the strength to get back up and to keep going. Using cycling as a coping strategy and a means of being absolutely present in the moment is hugely inspiring, as both groups of women and individuals "create impetus" and "momentum" to move out of darkness, "ignit[ing] [that] passion into everyday life."
Woman Up
"Imagine standing on a stage naked under a spotlight": that's how Eilidh describes the feeling she used to have of doing sport in front of others – a struggle with body image that she has overcome through discovering her passion and talent for mountain biking.
"From the documentary genre, Katrina Brown, whose work we've screened in the past and who is really shaping up to be a great storyteller, gives us a moving account of one woman's personal journey from confirmed 'non-sporty girl' to outdoor adventure-lover." - Amanda Millen, Director XpoNorth 2017
Grazing on the Edge
A film created using participatory video techniques, that allowed a rural community on the Isle of Skye to explore and explain the multiple, complex and sometimes conflicting, issues around the use of the crofting common grazings.  The film has been used to engage policy makers and politicians, and was screened at the Scottish Parliament.
First Ascent
An enchanting and innocent story of a young girl determined to explore her local hills after being inspired by classic mountain literature. Both a celebration of the thrill and anticipation of conquering our first peak and of those triumphant early moments of childhood, "First Ascent" is a sweet and simple drama with an endearing protagonist.